Some foods and drinks just need that extra spice such as burgers or bloody marys, and even a breakfast burrito. Adding extra pepper, for instance, is just not enough to spice those things up. That is why those who appreciate spicy food have a bottle of Tabasco sauce in their homes. And what do you really know about that beloved sauce of yours that you add to some of your foods and drinks?
Chances are that you know very little about it. You may only know it has been around for nearly 150 years, and that it is the very first hot sauce that existed, but do you know what it is made from? Let's talk about that now.
What Is Tabasco Sauce Really Made Of?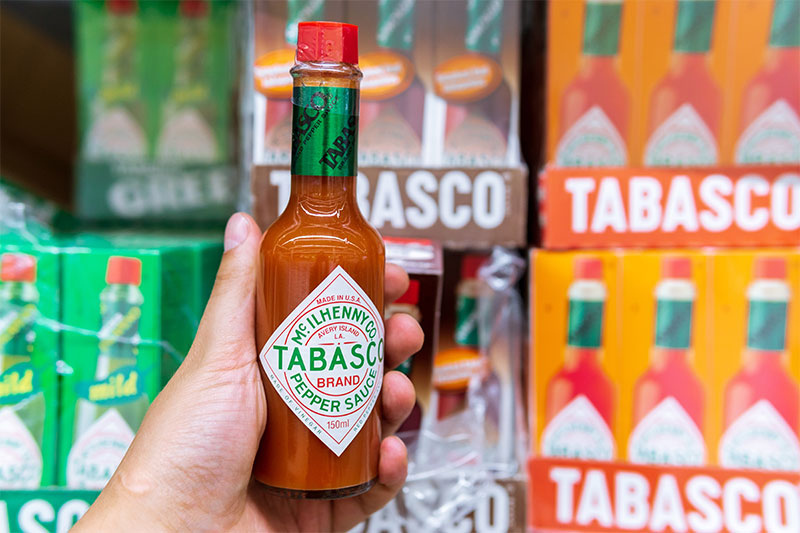 This very first hot sauce that was established on Avery Island in Louisiana only contains three ingredients. Tabasco sauce contains salt, vinegar, and peppers, that is it! And it all came to life after the Civil War as a man with the name of Edmund McIlhenny grew Tabasco peppers and decided to ferment them so he could make a hot pepper sauce. He did, and he decided to name the sauce Tabasco sauce.  
The sauce became popular and then he decided to market it to food distributors by sending samples. They really liked it and since there were no other sauces around that were like Tabasco sauce, it became an instant hit and a huge success. And even today, the Tabasco headquarters are still located on Avery Island.
However, if you think you can make your own version of Tabasco sauce at home, you can certainly try, but just be aware that just because the ingredients only contain three components, you really cannot duplicate it. There never has been any genetic modification of these peppers which is very difficult to find in this day and age.  
In addition to that, the type of salt used in Tabasco salt is not just any ordinary salt. The salt used is specifically from Avery Island salt mines, unless you want to go to that specific area of Louisiana and extract the salt from there to make the sauce. It would honestly be so much less trouble if you left it up to those who really know how to manufacture the world's very first hot sauce instead. Not to mention, it does not take just a few minutes to whip up the sauce with those three ingredients. How many years does it take to make Tabasco sauce?
Tabasco Sauce Cannot Be Made In Less Than Three Years
When Tabasco sauce was a new thing, it was stored for one month in stone jars. However, things have changed drastically in close to 150 years. That is why in order to properly make Tabasco sauce, you must make sure it is properly aged for three years before adding it to the bottle. The way this happens is by adding mash to the barrels made of white oak which is how Tabasco sauce develops a strong and unique flavor. Then once the aging is complete, the mined salt as well as the vinegar that is distilled-cane will be mixed.
Therefore you see it is quite a job and a process to manufacture Tabasco sauce. Do you also think that the bottles that the sauce was stored in are those same iconic bottles that are sold in supermarkets? Not at all. You will be surprised to know where Tabasco sauce was originally sold.
Tabasco Sauce Was Originally Sold In Cologne Bottles
Can you imagine tabasco sauce sold in cologne bottles? If not, then you are not alone. However, they were first sold in cologne bottles because those were the bottles that McIlhenny used when he produced the sauce. He had a lot of old cologne bottles that were taking up space and he used them for the sauce. Of course, since time has elapsed, those iconic bottles replaced old cologne bottles. They were the perfect type of bottle since they featured sprinkler fitments so that a few drops of the sauce would come out instead of pouring it.
And a small two-ounce bottle really does go a long way as well. You have 720 drops of the sauce in a bottle that small and all you need is just a couple of drops to spice your food and drink the way you want. However, as long as you store the bottle in a cool, dark, and dry place, you will get a good five years from it, so it won't expire for a long time!