What's the deal with flies? The tastiest your food, the more flies come from god knows where to land and suck on it. And don't get me started with barbecues and backyard dinner parties.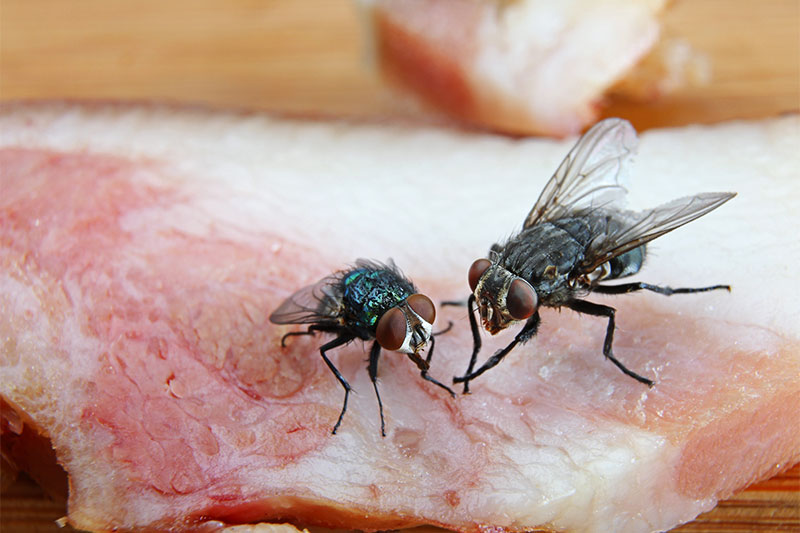 House flies can smell your food from four miles away, and they're weirdly attracted to both your most delicious lunch and decaying, putrefied food and feces.
Flies are sneaky too and are really hard to catch or kill. So, the question is, what really happens when a fly lands on your food? You won't like the answer, that's for sure, but here it is.
Flies are Dirty Little Insects
Let's start by saying flies and not the cleanest of insect. They're actually quite filthy, and it's because they're attracted to decaying matter, dead animals, feces and rotting meat. That's where they lay their eggs.
Not all flies are equally dirty. It all depends on the environment In which they live. The amount of excrement, garbage and animal carcasses around you determine how clean or dirty are the flies that sneak into your home.
Our modern society kinda has garbage controlled, and there shouldn't be many feces and dead animals in your neighborhood, meaning if you live in a clean city, the flies are cleaner. Now, if you live in a polluted environment or near a dumpster, things are different.
Fly Poop and Germs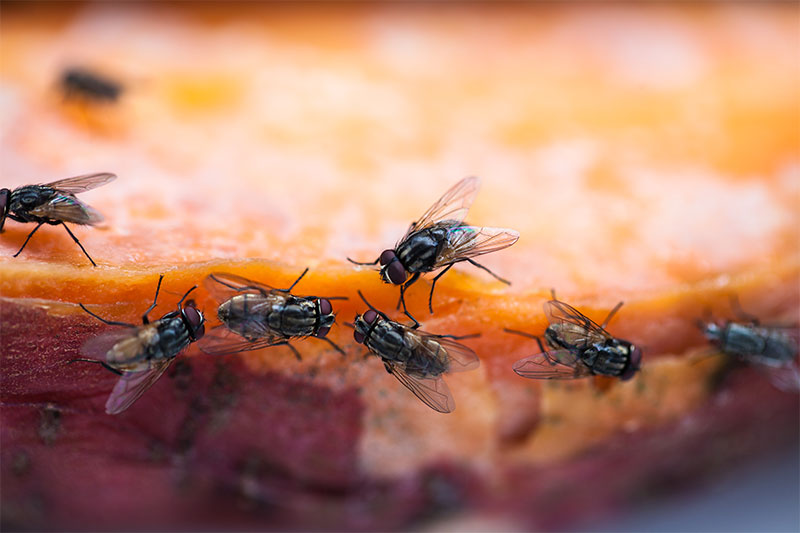 The problem is, this decomposing matter is packed with harmful bacteria, and flies carry the microbes in their tarsi or feet. A recent study showed a common fly can carry 600 different types of bacteria, and some of them can make you ill, others could be deadly! Anthrax, cholera, salmonella, tuberculosis and typhoid are just a few bacteria that could catch a ride on a fly.
And then there's the flies' poop, because there's a big chance the insects might decide to do their thing over your food if you let it roam around for a while. Flies's poop and all the bacteria they carry in their legs, that's just too much to handle.
Fly's Liquifying Vomit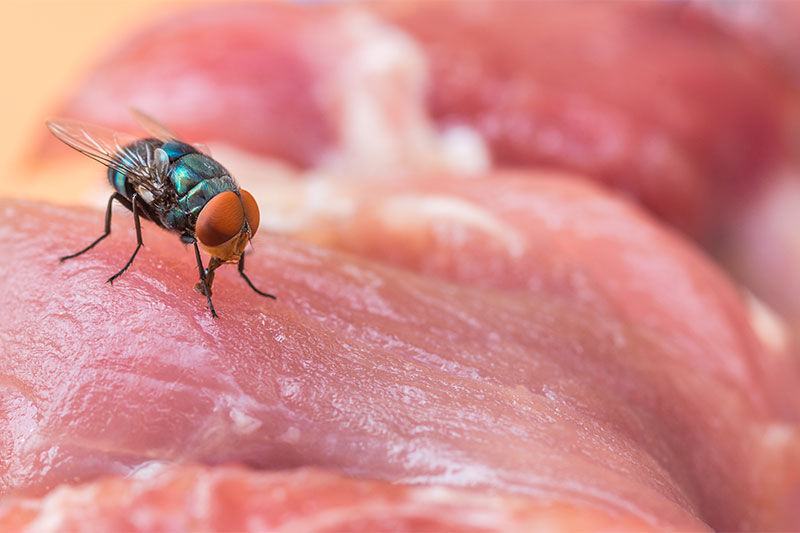 Why do flies land on your food, anyway? Well, they're looking for food, and that brings another set of problems. Flies have no teeth; they have a trunk-like mouth. What they do is vomit a corroding substance that liquifies what they 'kiss' with their long mouth, then they slurp the liquified food.
There's no way around it, flies are literally puking all over your food. Now we're really freaked out, aren't you? So, there's the bacteria in the fly's feet, the fly's feces and its vomit. You want to cover your food and shut the windows, just to play it safe.
Is Your Food Ruined?
Now, let's answer the most important question. Is your food ruined after a fly walks over it? Not really. Although flies contaminate your food with lots of bacteria, our immune system is up for the challenge. Unless you have weak defense mechanisms, chances are you won't get sick.
You need to consider your environment as well. Most of us live in relatively clean neighborhoods where, as a society, we've managed to reduce the amount of garbage and decomposed meat out in the open air to a minimum. That means the surrounding flies are probably cleaner than you think. Then again, if you live in places with poor public hygiene, then you might want to take measures.
How To Keep Flies Away?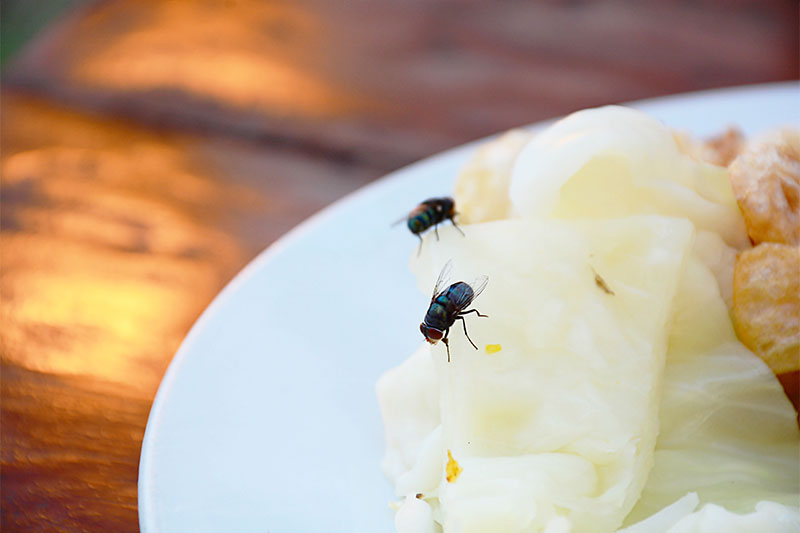 The best way of keeping flies away is by not attracting them in the first place. Don't leave your leftovers out on the counter. Cover your food and keep your backyard free from animal feces.
If you want to scare flies away, there are a few methods you can try. For starters, sticky fly traps are quite effective, and yellow light might repel the insects.
Hanging bags of water around is a popular solution, but not very useful. Smoke from candles, though, especially if they're scented with citronella, might dissuade the flying insect from coming into your home.
Most importantly, clean your garbage cans often and keep your food safe. You'll be all right.
The Bottom Line, Are Flies the Enemy?
Flies are disgusting little insects, and they're annoyingly intrusive. Yes, they can make you sick and could potentially ruin your meal.
Having said that, consider that the longer a fly walks over your food, the more dangerous it becomes. You might also want to discard your drink if a fly decides to go for a swim in it.
You can't really avoid flies, especially if you're enjoying your meal out in the open, but don't worry, you'll probably be fine, but be cautious.
Flies have been around since forever, and we've so far survived as a species. We just have to try to avoid them and deal with them now and then. It's no biggie.