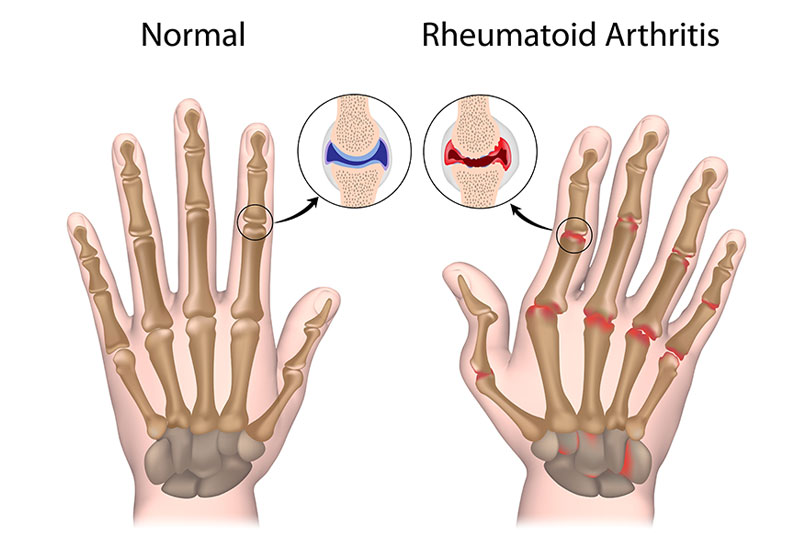 There are a few types of arthritis that are autoimmune, where the immune system attacks the body's joints. One type of psoriatic arthritis or PsA and the other is rheumatoid arthritis or RA where both conditions involve the immune system attacking the joints causing stiffness, pain, and swelling. Organs such as your blood vessels, eyes, and skin can also be attacked by the immune system. However, there are differences between both conditions and you cannot have both at the same time whereas when it comes to autoimmune conditions, you tend to have other autoimmune conditions as well. Just not those two.
How Are RA And PsA Different?
Both conditions are characterized by your joints being attacked by the immune system and it causes a lot of pain. RA causes your joints to swell up and become stiff, and if they are not treated properly, they can become deformed and damaged. With PsA, not only does your immune system attack the joints but it also attacks the skin. The immune system causes your body to make too many skin cells which causes psoriasis and you always see those who have that skin condition with those who have PsA. Both diseases are difficult to live with.
What Is The Cause Of Both Autoimmune Conditions?
If you have RA, then there is a good chance that someone in your family or history had it as well as RA does run in families. Therefore, even if you don't have either parent that has RA, but if you have a first cousin that does, perhaps there is a chance that you may have it as well if your aunt or uncle also has it. If your cousin's other parent had it they inherited it from them which would have no effect on you.
Women are more likely to have RA than men but it does happen in men too and it can begin showing up anywhere from the ages of 40 to 60, but sometimes younger. And other illnesses or trauma can also cause it to manifest younger. If you have PsA, it is also genetic but that usually starts younger from the age of 30 to 50.
No one still understands the exact cause of either ailment but it is believed that some viruses can bring it on or other bacterial infections that have a profound effect on the body. There is speculation that it can be trauma-driven that can be the cause of RA or PsA. Also, hormones may play a part that can cause the immune system to work too hard and begin attacking healthy joints and tissues.
What Are The Symptoms Of Both Autoimmune Conditions?
The symptoms of RA include pain and swelling in smaller joints but over time it affects larger joints and shows up on the same joints on each side of your body. It also causes stiff joints first thing in the morning, low-grade fever, weight loss, and fatigue. The symptoms of PsA are the joints of the pelvis and back, as well as the fingers and toes, and it only affects one side of the body. It can also cause foot pain, and cause your fingers to swell up. It affects your tendons that attach to the bones known as the entheses and causes your nails to flake.
There will be times when the symptoms worsen as they are known as flares and the times that they are better are known as remission. Both conditions have to be diagnosed by a rheumatologist that will find markers in bloodwork as well as through imaging. Both conditions will need treatment with immunosuppressive drugs and steroids. You can also have other unrelated autoimmune diseases with either one.